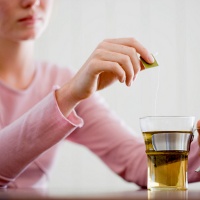 Jakarta,
Air putih merupakan cairan yang paling dibutuhkan untuk hidrasi tubuh. Tapi penelitian baru juga menunjukkan bahwa teh memiliki sifat hidrasi yang sama dengan air putih.
Penelitian terbaru yang dilakukan di Inggris telah menemukan bahwa minum teh 4 sampai 6 gelas per hari sama artinya dengan minum 1,5 liter air.
Hidrasi yang tepat pada tubuh sangatlah penting. Air diperlukan untuk memainkan fungsi di otak, ginjal dan jantung. Hidrasi yang tepat membantu menjaga sendi dan pelumasan otot. Air bahkan bisa membantu Anda dalam menurunkan berat badan dengan menekan nafsu makan dan mempercepat metabolisme.
Penelitian telah menunjukkan bahwa teh tidak menyebabkan dehidrasi (kekurangan air) tetapi justru memiliki sifat hidrasi yang hampir sama dengan air putih.
Dalam penelitian ini, peneliti meminta 21 orang laki-laki usia rata-rata 36 tahun untuk mengonsumsi teh. Selama 12 jam, partisipan tersebut diminta untuk minum 240 ml teh dengan 20 ml susu semi-skim dan tanpa gula dengan air yang mendidih.
Pada tes yang serupa, pastisipan diminta untuk mengulang minum 6 gelas teh atau sekitar 1,5 air putih.
Untuk memeriksa tingkat hidrasi, sampel darah diambil sebelum konsumsi minuman dan juga secara berkala.
Berdasarkan hasil penelitian ini didapatkan bahwa teori yang mengungkapkan minum teh bisa meningkatkan risiko dehidrasi pada seseorang karena mengandung kafein adalah tidaklah benar.
Ahli gizi di
Tea Advisory Panel
menemukan bahwa 6 gelas teh dan 1,5 liter air putih memberikan hidrasi yang sama, seperti dilansir
Medindia
, Jumat (1/4/2011).
Penelitian ini telah dipublikasikan dalam
British Journal of Nutrition
.
Manfaat dari teh tidak hanya untuk merehidrasi, tapi juga melindungi tubuh terhadap beberapa
penyakit
seperti jantung dan kanker. Para ahli percaya bahwa senyawa antioksidan flavonoid yang menjadi bahan utama teh bisa meningkatkan kesehatan. Tapi perlu diperhatikan bahwa manfaat teh dapat diperoleh bila gula yang ditambahkan tidak berlebihan.
sumber : detik.com
---------------------------------------------------------

Like to get the latest updates!
---------------------------------------------------------------
Share this great information with your friends!
Related Posts