Menuju Kualitas Kesehatan yang Lebih Baik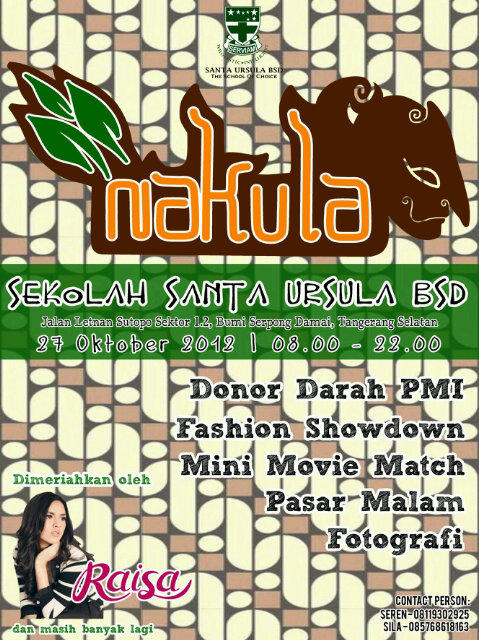 Ada RAISA loh! Ayo datang ke NAKULA!
-----------------------------------------------------------------------------
SMP-SMA Santa Ursula BSD proudly present NAKULA on 27th October 2012. Save the date and don't miss it!

NAKULA is an event of health and art. Open for junior high, senior high students and public!

Registration will be held on 12th-20th Oct '12, 2pm-3pm (Monday-Thursday), 12pm-1pm (Friday), 12.30pm-1.30pm (Saturday) at SMA St.Ursula BSD

We have photography, mini-movie match, and fashion showdown competition. So what are you waiting for? Join us and register!
Teman-teman dibawah ini bisa kalian download invitasi untuk acara lomba Nakula. Ada 3 lomba yang bisa teman-teman ikuti Fotografi, Fashin Showdown, dan Mini Movie.
Untuk lebih jelasnya bisa langsung aja download invitasinya di bawah ini.
Kalau ingin bertanya lebih lanjut, tanya aja ke @NAKULA2012
Invitasi Nakula
--------------------------------------------------------------------------
Nakula adalah seorang tokoh protagonis dari wiracarita Mahabharata. Ia merupakan putera Dewi Madri, kakak ipar Dewi Kunti. Ia adalah saudara kembar Sadewa dan dianggap putera Dewa Aswin, Dewa tabib kembar.
Menurut kitab Mahabharata, Nakula sangat tampan dan sangat elok parasnya. Menurut Dropadi, Nakula merupakan suami yang paling tampan di dunia. Namun, sifat buruk Nakula adalah membanggakan ketampanan yang dimilikinya. Hal itu diungkapkan oleh Yudistira dalam kitab Prasthanikaparwa.
Nakula dalam Pewayangan Jawa
Nakula dalam pedalangan Jawa disebut pula dengan nama Pinten (nama tumbuh-tumbuhan yang daunnya dapat dipergunakan sebagai obat). Ia merupakan putera keempat Prabu Pandudewanata, raja negara Hastinapura dengan permaisuri Dewi Madri, puteri Prabu Mandrapati dengan Dewi Tejawati, dari negara Mandaraka. Ia lahir kembar bersama adiknya, Sahadewa atau Sadewa. Nakula juga menpunyai tiga saudara satu ayah, putra Prabu Pandu dengan Dewi Kunti, dari negara Mandura bernama Puntadewa (Yudistira), Bima alias Werkudara dan Arjuna
Nakula adalah titisan Batara Aswin, Dewa tabib. Ia mahir menunggang kuda dan pandai mempergunakan senjata panah dan lembing. Nakula tidak akan dapat lupa tentang segala hal yang diketahui karena ia mepunyai Aji Pranawajati pemberian Ditya Sapujagad, Senapati negara Mretani. Ia juga mempunyai cupu berisi "Banyu Panguripan" atau "Air kehidupan" pemberian Bhatara Indra.
Nakula mempunyai watak jujur, setia, taat, belas kasih, tahu membalas guna dan dapat menyimpan rahasia. Ia tinggal di kesatrian Sawojajar, wilayah negara Amarta. Nakula mempunyai dua orang isteri yaitu:
Dewi Sayati puteri Prabu Kridakirata, raja negara Awuawulangit, dan memperoleh dua orang putera masing-masing bernama Bambang Pramusinta dan Dewi Pramuwati.
Dewi Srengganawati, puteri Resi Badawanganala, kura-kura raksasa yang tinggal di sungai Wailu (menurut Purwacarita, Badawanangala dikenal sebagai raja negara Gisiksamodra alias Ekapratala) dan memperoleh seorang putri bernama Dewi Sritanjung. Dari perkawinan itu Nakula mendapat anugrah cupu pusaka berisi air kehidupan bernama Tirtamanik.
Setelah selesai perang Bharatayuddha, Nakula diangkat menjadi raja negara Mandaraka sesuai amanat Prabu Salya kakak ibunya, Dewi Madrim. Akhir riwayatnya diceritakan, Nakula mati moksa di gunung Himalaya bersama keempat saudaranya.
Sumber : http://id.wikipedia.org/wiki/Nakula
---------------------------------------------------------

Like to get the latest updates!
---------------------------------------------------------------
Share this great information with your friends!
Related Posts