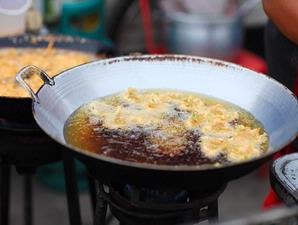 Makanan gorengan, seperti pisang goreng, bakwan, atau combro, adalah menu yang sangat khas Indonesia. Gorengan memang camilan yang sangat digemari secara turun-temurun. Namun sering kali tenggorokan menjadi gatal dan timbul batuk sesudah kita menyantap gorengan. Kenapa begitu, ya?

Rasa gatal pada tenggorokan sebenarnya disebabkan oleh akrolein, senyawa yang terbentuk karena suhu pemanasan minyak goreng melebihi titik asapnya. Minyak goreng yang baik memiliki titik asap yang tinggi. Makin tinggi titik asapnya, makin baik mutu minyak goreng tersebut. Bila minyak digunakan berulang kali, maka akrolein semakin cepat terbentuk sehingga gorengan yang dimakan menimbulkan batuk.

Menurut penjelasan Harry Soegiantoro, General Manager Oryza Grace Rice Bran Oil, suhu penggorengan pada umumnya memiliki titik asap 177-121 derajat celsius.

"Minyak goreng yang baik harus memiliki titik asap tidak kurang dari 215 derajat celcius. Menggoreng pada suhu di atas titik asap akan mengubah asam lemak tak jenuh pada minyak menjadi asam lemak jenuh yang menambah kolesterol dalam darah," paparnya di Jakarta, Kamis (8/4/2010).

Harry menjelaskan, asap yang keluar dari minyak goreng saat dipakai menggoreng merupakan tanda bahwa titik asapnya sudah terlampaui. "Selain mengubah rantai lemak, penggorengan dengan suhu sangat tinggi juga akan membentuk akroleinpenyebab batuk," tambahnya.

Titik asap pada minyak yang telah dipakai untuk menggoreng akan menurun karena terjadi hidrolisis molekul minyak. Itu sebabnya minyak goreng sebaiknya tidak dipakai berulang-ulang. "Maksimal tiga kali dipakai. Setelah itu, jelantah harus dibuang," cetus Harry.
sumber:kompas.com
---------------------------------------------------------

Like to get the latest updates!
---------------------------------------------------------------
Share this great information with your friends!
Related Posts